Sorry, Ernie, I just could not resist that title.
Ernest Borgnine has always been one of my favourite actors. He's one of my few faves who have stood the both the test of time of my learning something about the craft of acting.
Above all, the man had presence. He also had an amazing ability to make just about any line of dialogue his own, no matter how badly written it may have been. It's no surprise that Borgnine had a 61 year career in which he racked up -get this- 203 IMDB screen credits.
He didn't even appear in his first film until he was 34 years old. In fact, he didn't even take up acting until after leaving the US Navy at the end of World War II.
Mr. Borgnine kept working right up till the end.
He was nominated for an Emmy at the age of 92 for his performance in the final episode of ER.
He's still got one more movie, The Man Who Shook the Hand of Vicente Fernandez, coming out later this year.
On top of that, how many actors do you know of whose obituaries read "Star of From Here to Eternity and SpongeBob SquarePants Dies"?
These are nine of my Ernest Borgnine faves.
9. The Devil's Rain (1975)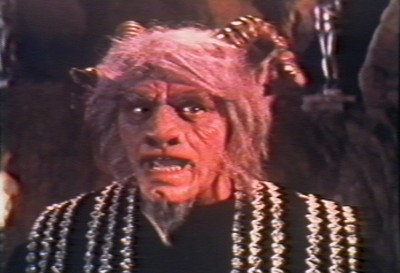 Ernest Borgnine is The Devil.
Okay, I'm going to admit to a bit of bias here.Any movie that's got Borgnine
and
William Shatner in it can't be all bad, right?
Um, well, not so much.
This is where that part about Borgnine being able to own even badly written dialogue comes in. More than anything else, though, I just love the idea of Borgnine as The Devil.
I know. I know. Typecasting, right?
Well, in fact, Borgnine plays more of a centuries old warlock who leads this coven of witches. The Devil thing comes later. Oh, and along the way, he transforms Shatner into an unwilling servant of Satan.
In his 2008 autobiography, Ernie, Borgnine talks about working with Shatner: "Bill Shatner is a hoot. He has a kind of florid style, as do I, and he's just so entertaining to watch on the set and on the screen."
8. McHale's Navy (1962-66)
There are not a lot of actors who could pull off the kind of career move Ernest Borgnine made with McHale's Navy. He had a successful career as an Oscar winning dramatic actor but Borgnine basically set all that aside for four years. From 1962-66, he starred in McHale's Navy, a half hour TV comedy series about a wacky US Navy PT boat during World War II.
The show contained some pretty over-the-top and dated comedy. Borgnine starred alongside future Carol Burnett Show and Dorf star, Tim Conway.
Such a move may well have killed the careers of many actors (especially back in the days when there was little or no star crossover from TV to movies), but not Borgnine. O
nce the series was cancelled,
he managed to pick up his dramatic career once again with roles in big movies like The Dirty Dozen and Ice Station Zebra.
7.Willard (1971)
Borgnine was often typecast in the likable sidekick role. Every once in a while, though, he'd get to play the heavy (no pun intended, seriously).
In Willard, Borgnine plays the boss of the titular character. It seems this boss is attempting to take control of Willard's deceased father's company and squeeze Willard out of the business completely. Complicating things is the fact that Willard is an oddball social misfit whose only friends in life are rats.
Willard trains his rats to become lean mean killing machine rodents. Borgnine is so perfectly unlikable in the role that (SPOILER ALERT) the audience is not really all that broken up to see him get eaten alive by a pack of viscous attack rats while falling out a window.
In those pre-CGI days, you just know that at some point Ernie had to deal with real rats crawling all over him during shooting.


Remade in 2003 with Crispin Glover as Willard and R. Lee Ermey in Borgnine's role.
6. SpongeBob SquarePants (1999-2011)
Around the mid 90's, when Ernie was still a spritely young man in his late 70's, he began doing animation voice-over work. In his book, Borgnine describes voice work as "almost like stealing money, to put it bluntly." He's right. It can pay very well sometimes; better than TV or movie roles, i
n some cases
,
and under decidedly less demanding circumstances.
Aside from the allegedly easy cash, Borgnine suddenly found a whole new audience in animation. There is a whole generation who only know him as the voice of the superhero Mermaid Man from extremely popular animated series SpongeBob SquarePants. Borgnine voices the aged version of Mermaid Man, a character that is clearly a satirical take on the DC comics superhero, Aquaman (and 1960's TV series of the same name). Mermaid Man's sidekick, Barnacle Boy, is voiced by Borgnine's old co-star from McHale's Navy, Tim Conway.
5.

The Dirty Dozen(1967)
The Dirty Dozen is something of a legend in the category of classic "guy" movies. It also boasts quite the impressive cast: Lee Marvin, Charles Bronson, John Cassevetes, Donald Sutherland, Telly Savalas, George Kennedy and, of course, Ernie.
His role
is not really that big. He plays
General Worden,
the man who concocts a plan to recruit a team of military prisoners for a suicide mission in Nazi occupied Europe during WWII. The General then hands it all over to a reluctant Lee Marvin. Borgnine doesn't get to do any running around or fighting in this one but, nonetheless, he is very effective in the part of the seemingly blundering General. And, man, he certainly holds his own in those scenes with Lee Marvin.
A made-for-TV sequel, The Dirty Dozen: The Next Mission, was made in 1986. Borgnine reprized his role as General Worden. The events of that movie take place shortly after the end of the original Dirty Dozen. One thing that I could not get over while watching the sequel was how the poor General seemed to have aged almost 20 years in just a matter of weeks.
4.From Here to Eternity (1953)
By the time From Here to Eternity made it to the screen, James Jones' hard hitting novel about US military life just before the Japanese attack on Pearl Harbor in 1941 was pretty watered down. Much of the sex, violence and the existential lack of morality that made the book memorable was either toned way down or cut out altogether.
In the "toned way down"
department
, that included the character of the violently abusive Sgt "Fatso" Judson. N
onetheless,
Borgnine's performance as "Fatso" did put him on the map in Hollywood. From Here to Eternity was his first real outing into the "big leagues", as he called it. He co-starred with Burt Lancaster, Montgomery Clift and Frank Sinatra. Borgnine's character was, well, was not so nice to the latter.
Ernie was apparently complimented by James Jones himself during a visit to the set. Jones felt that Borgnine was, despite the script adjustments, very authentic to the spirit of the original character in his book.
3. The Wild Bunch (1969)
The Wild Bunch is a lot of things. In its day, it was one of the most violent movies ever released. Today, it is still considered one of the greatest Westerns ever made (and, really, kinda tame in the violence department by today's standards). The Wild Bunch is also seen as part of the beginning of the end of the genre of the Western.
Even in 1969, Borgnine was considered one of the older guys in these ensemble pieces. In The Wild Bunch, he fit in a bit better age wise. He plays Dutch Engstrom, one of a group of aging outlaws that also consists of William Holden and Robert Ryan.
He was 51 at the time and it was his most physically demanding role to date. In Borgnine's words, "it was not much fun to make."
I bet. That final 12 minute gun battle is grueling just watching it. I can't even imagine what it woulda been like shooting that sucker.
2. The
Poseidon
Adventure (1972)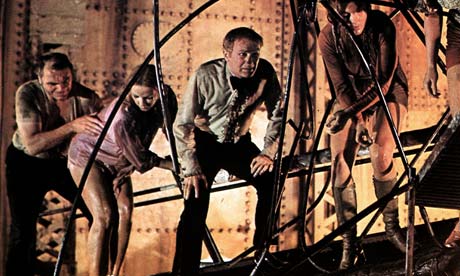 Speaking of movies that "weren't much fun to make", Borgnine speaks similarly of The Poseidon Adventure. "Fourteen weeks of backbreaking work", he called it.

The result, though, turned out to be Borgnine's biggest box office success. Once again, he was part of an ensemble cast including Gene Hackman, Red Buttons, Shelley Winters, Roddy McDowell, and starring as Borgnine's wife, Stella Stevens.
The Poseidon Adventure is one my personal faves of the 70's disaster movies. It's a pretty simple plot, really. Right at midnight on New Year's Eve, a tidal wave hits a big luxury ocean liner and turns it upside down. A group of surviving passengers try and find their way to the top/bottom of the ship before it sinks.
Borgnine is great in this movie. He's saddled with some really cheesy dialogue in places but, boy, he nails that shit anyway. I just remember the way he stares down Gene Hackman (playing a Reverend who is attempting to lead the rescue effort) with the line "And who the hell are you? God?!".
Another favourite scene of mine is where Borgnine's wife has lost a good part of her evening gown so Borgnine takes off his shirt so she can cover herself. Clearly, this was a cheap exploitative ploy on the part of producer Irwin Allen to gratuitously make Ernie to spend the bulk of the film in his undershirt.
1. Marty (1955)
Marty is a film based on the teleplay of the same name by Paddy Chayefsky and it's t
he movie that Ernest Borgnine won his Best Actor Oscar for.
And it is quite a performance too. As the 34 year old socially awkward unmarried man still living with his mother, Ernie maintains an understated charm and grace. Back in 1955, apparently, a single man in his 30's' only option was, of course, to continue living with his mom.
In addition to the Oscar for Best Actor, the movie also won Best Picture, Best Director and Best Screenplay. The Academy tends to swing three ways for Best Picture: epics, small character driven films and films that deal with social/political issues that may or may not fit into the first two categories. Marty is part of that small character driven films category. That's why Borgnine is crucial to its success.
Up against James Cagney, James Dean, Spencer Tracy and Frank Sinatra, Borgnine did not expect to win the Oscar. He was so sure of it, in fact, that at the time his name was announced during the Academy Awards, he had fallen asleep in his chair.
Fair enough. The Oscar ceremony can get seriously dull sometimes.
Thanks for all the fun, Ernie!
Ernest Borgnine 1917-2012
RIP