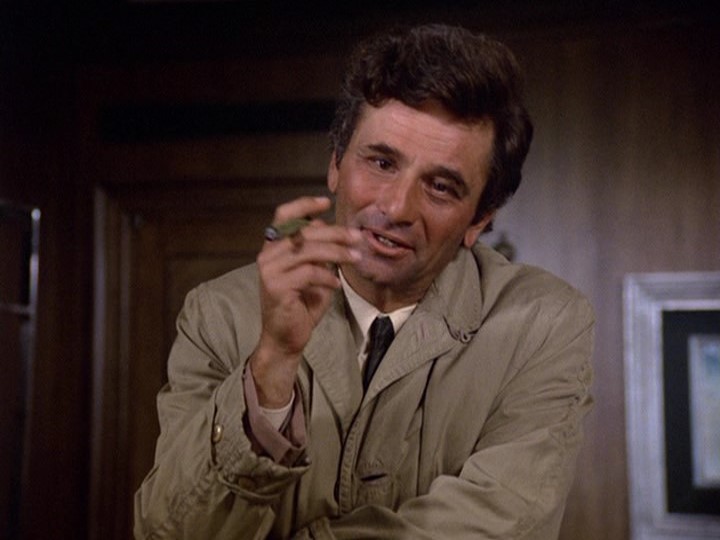 "A good costume is half the battle".
-Peter Falk (1927-2011)
in Wings of Desire
5. Made (2001)
Long before
Iron Man
and
Cowboys and Aliens
, actor/director
Jon Favreau
was known for his smaller, character driven movies like
Swingers
and
Made
.
In Made,
Peter Falk
plays Max, a low level gangster who entrusts doofus small time boxer Vince Vaughn to handle one of his money laundering schemes.
Made is a quirky, somewhat edgy comedy. "Swingers meets
The Sopranos
" is how one review put it. Falk's performance is just menacing enough to be believable as the threatening heavy of the story. At the same time, he is also just funny enough so as not to break the comic momentum of the film. That balance between humour and drama is one of Falk's great strengths as an actor.
4. The In-Laws (1979)
The In-Laws
is Peter Falk's best comic role.
Allan Aarkin
plays a dentist whose daughter is about to marry Peter Falk's son.
Just before the wedding, Falk shows up with a bunch of counterfeit bills and a story that he works for the
CIA
. It's not long before Falk drags Aarkin off on a dubious yet dangerous mission to Central America.
The In-Laws nicely showcases Falk's comedic range. Falk's charm and humour are front and center. It also helps that he and Aarkin have incredible on-screen comic chemistry.
The 1979 In-Laws is not in anyway to ever be confused with the far inferior
2003 remake
starring
Michael Douglas
and
Albert Brooks
.
Other stand out comedic performances by Falk include the only once aired made-for-TV remake of
Neil Simon's The Sunshine Boys
, co-starring
Woody Allen
and, of course, Falk's great cameo in
The Great Muppet Caper.
3. The Brinks Job (1978)
The Brink's Job
is an entertaining little heist movie (based on a true story). Taking place mainly in 1950, it tells the tale of how a few very small time criminals managed to pull off what was at that time the
biggest roberry
in US history. They were helped in no small part by Brink's' amazingly lax security standards at their Boston office in 1950. 4 million dollars total was stolen. Only 50,000 was ever recovered.
Falk is a wonderful part of an ensemble of top notch actors including
Peter Boyle
,
Paul Sorvino
,
Warren Oates
and
Sheldon Leonard
.
Who knew Mr.Falk was such a
Fanboy?
2. Columbo (1971-2003)
The role of Lt.
Columbo
was not originally offered to Falk. The lead in the series of made-for-TV movies (Columbo aired in rotation with
McMillan and Wife
and
McCloud
as part of the
NBC Mystery Movies
) was first offered to a few different actors, including crooner and
Bob Hope
sidekick
Bing Crosby.
Crosby turned down the role, reportedly because he felt the series would interfere with his golf game a little too much. Every struggling actor who just read that last sentence is now cringing I'm sure.
When Falk was finally offered the part, he contributed a great deal to the role. One of his most notable contributions was the raincoat. It was actually his own raincoat. Falk would also often ad-lib lines and physical quirks. Not only did his ad-libs help flesh out the character but they would also keep his fellow actors on edge. This played rather well for the scenes as his co-stars were mainly playing murder suspects.
Speaking of ad-libbing and
improvisation,
Falk's performance as Columbo is one of the most brilliant status shifting performances I have ever seen. For those of you who have never been to one of my improv workshops, status is a way of defining the power and presence that a character has in a given scene. Status can be played high or low. For instance, in a scene with a spoiled child getting all the ice cream he wants from his dad, the child his high status and the dad is low status. It's all about attitude, really. Falk had this wonderful way of playing Columbo as seemingly low status. Once the murder suspect thinks that Columbo is a bumbling idiot, they let their guard down. Columbo is then able to get more information out the suspects than he might by attempting a more high status means of interrogation. Falk's Columbo would play low status as a means of attaining high status. The murder suspect (often played by celebrity guest stars) only
thinks
they have a higher status than Columbo. In reality, they are, in fact, the low status players in the scene. Trust me, with 21 years of improv experience under my belt, playing those kinds of subtle status shifts ain't no easy thing.
Mr. Falk truly earned every one of those four Emmy's he won for the role of Lt. Columbo.
1. Wings of Desire (1987)
Wings of Desire
is not only Falk's best performance but one of the best films ever made. A half black-and-white
Wim Wenders
film about fallen angels in German with English subtitles is the last place you'd ever expect Columbo to turn up. That is the strength of his performance in the film.
Falk's very presence in Wings of Desire is a stroke of brilliance on Wenders' part. Not only does Mr.Falk turn in the best performance of his career but he (playing himself, no less) is also invaluable to the film as a whole. Falk's persona brings an earthy charm and humour to a film that, while quite amazing in its own right, would otherwise lack those qualities. A very familiar English-speaking face also no doubt did not hurt Wings of Desires' US box office numbers.
In Wings of Desire, Falk delivers my favorite line ever about acting: "A good costume is half the battle".
Much of Falk's dialogue, like much of the film's dialogue, was ad-libbed and improvised on set (not unlike Columbo, in that sense). The scene where Falk tries on many different hats for his role in the film within the film was inspired by Falk's actual wardrobe fitting. At his fitting, he went through hats just like he does in the scene. At the end of the fitting, Wenders said, "Well, I don't know if we have a found a hat but we have found a scene".
I guess he is no longer a
fallen
angel.
RIP Peter Falk